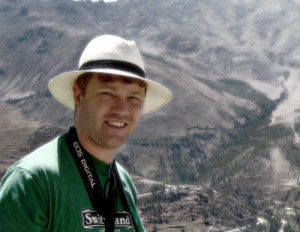 Interested in computers from a young age, I studied Computer Science and (just for kicks) Mathematics at the University of Newcastle. During my studies I did some part time work with the Kip McGrath Education Centres head office assisting with development of some of their tutoring resources.
Once I finished my studies I found a job working with a research institute called NISAD (Neuroscience Institute of Schizophrenia and Allied Disorders) My role at this position was as a research assistant, but included a large range of duties from system administration, software development, data management, hardware support and more. I was also very quickly drawn into the world of Magnetic Resonance Imaging (participating in a study on the first day I started).
My hours were split between supporting 2 main groups of researchers, at the University of Newcastle's main campus at Callaghan, and a second group that began at the James Fletcher Hospital near the beach in Newcastle, but eventually moved to the Mater Hospital, Waratah. Over time my role moved away from System Administration and became more involved with the design of research experiments (while still doing the development).
The institute I was part of also changed, becoming the Schizophrenia Research Institute, Australia. Then in mid 2012 as part of an agreement with the University of Newcastle, my position moved to being overseen by the University directly, and during this process my position changed from a research assistant to a research academic.
My current focus areas are on diffusion weighted imaging techniques (a variant on magnetic resonance imaging). Recently I have been investigating the use of open source workflow software, in particular nipype to facilitate the combination of data analysis procedures from different packages.